Japanese pronunciation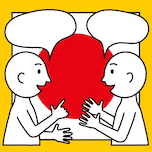 This is an app for studying Japanese pronunciation made by Japanese people.
Starting with the pronunciation of Japanese hiragana and katakana, this app features over 1,000 types of voice recordings of common vocabulary and colloquial expressions from everyday life.
All recordings can be listened to for free.
This app will help you out when you are sightseeing, staying at a hotel or other accommodation, and shopping in Japan.
We will continue to update our content and continue to expand, so keep your eyes open for the latest updates.
RETURN