6x6 mini Sudoku Puzzle ON LINE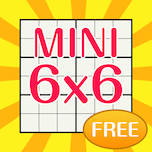 This is a mini-size Sudoku Puzzle consisting 6x6 grid you can enjoy anytime.
Play all stages free, with no charges!
Over 10,000 puzzles! More puzzles added all the time that you can download online!
This puzzle application is sure to leave you satisfied!
How many can you solve?

Characteristics
- A design that is simple and easy to see.
- You can change the color or font settings according to your mood.
- There is a feature that lets you suspend the game, and later resume from where you left off.
- Available in 5 languages.

RETURN